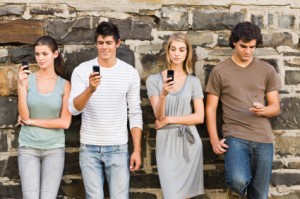 85% of adult Americans own a cell phone.
52% of Americans send test messages.
A recent study on Wireless Internet use by Pew discovered that more than 50% of American adults use their mobile phones for non-voice data each day. Non-voice data includes using smart phones and cell phones for texting, taking photos, playing games, surfing the Web and sending email.
And here is a scary statistic:  25% of Americans admit that they text while driving.
Lucky for us, companies like Vlingo have invented "voice user interface" technology that allows people to control their cell phones by talking to the phone.  "We often like to say 26 percent of people admit to driving while texting. We are sure that underestimates the problem," said Dave Grannan, of Vlingo.  Click here for more results of the Vlingo survey. Let's all pledge to text only while parked.
The Pew study says, "Sending text messages remains the mainstay activity for cell phone users." As companies seek ways to engage buyers through permission-based mediums, texting will no doubt continue to be hot.
Text messaging can provide you with ways to send specials to your buyers (consider the Moe's example where they send two specials a month and pack the restaurant) and it also can provide buyers with the instant gratification they seek (Brock Built includes text for information messaging on their signs at for sale homes).  When you include texting options on signs and ads, buyers can text you for information on your product, specials or upcoming event.
Of interest to retail business is a  Research Brief from The Center for Media Research  reports on a new survey commissioned by 1020 Placement and conducted by Harris Interactive. It finds that American consumers will accept opt-in mobile marketing messages from retail business. 42% percent of 18–34-year-olds and 33% of 35–44-year-olds with cell phones were interested in receiving alerts on their cell phones from places they frequent.
Have you effectively engaged your target audience via text messaging? Do you have a digital marketing strategy in place? Ask me, I can help!
If you like the content on my site, please comment, tweet or bookmark.  Thanks!