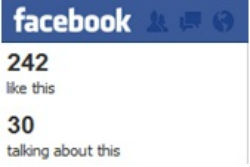 Hello and Happy New Year!
I'm happy to announce that I'll be starting the year off by giving a seminar, "Facebook for Business: Build Fans and Grow Customers" at the Cartersville-Bartow County Chamber of Commerce. The seminar will be held this coming Friday, January 13 at 11:30 am in the Anheuser-Busch Community Room.
Facebook is such a vital tool for personal and professional life- I don't know where we'd be without it. Did you know that Facebook has nearly 800 million active users? More than half of them log on daily. Think of the fantastic potential for networking and marketing!
Whether Facebook is still foreign to you or you're just looking for some fresh ideas for your profile, there's something for you at the seminar this Friday. Come join me in navigating Facebook's newest changes and hear tips for branding yourself and your company.
The event is free to all members of the chamber, and lunch can be pre-ordered for only $8. The cost to attend $35 for non-members.
If you would like to attend, there is still space! You may register online by January 12.