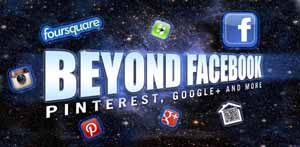 Next week I'm attending the 2013 International Builders Show in Vegas! IBS is always a blast because I get to network and catch-up with my friends from around the country.  Additionally, I am running for Vice Chair of Professional Women in Building. This is an amazing group of women that represent all facets of the industry. It will be a pleasure to work on a national level to represent them!
Finally, I am presenting for the fifth year at the International Builders Show. The first time I presented was in 2009 when I presented "How to Be a Social Media Butterfly." It is kind of crazy to reflect back, but that was the first social media presentation at IBS. Now five shows later, I'm presenting, "Beyond Facebook: Pinterest, Google+ and More" with two fellow MIRMs. This seminar is geared toward those who have Facebook, Twitter and blogging down and are looking for the newest social media tools. We will discuss the importance of and how to develop content that drives sales; mobile websites; QR codes and the fastest growing social media sites in the industry: Google+, Pinterest, FourSquare, Instagram and Houzz.
My co-presenters are Kelly Fink of The Providence Group and Paula Huggett of The Bokka Group. We've each spent lots of time preparing for the seminar, and will be pulling from both personal experiences in the industry as well as research we've done to bring you the most comprehensive and up-to-date information possible.
If you'll be attending IBS, I'd love to see you in the room during Beyond Facebook: Pinterest, Google+ and More; Wednesday, January 23rd, 2:30 – 4:00 p.m. in the South Hall, room 220. Session attendees will receive 1.5 continuing education hours from NAHB. Bring your questions!
And please don't hesitate to catch up with me during the rest of the show; there's a good chance you can find me at the Professional Women in Building (PWB) Lounge, Room N 219, Level II.  You'll also find me at the following sessions:
•    Everything You Want to Know about Social Media at the 50+ Lifestyle Central: January 22 at 9:30 a.m.
•    Social Media: Your Questions Answered at the Multifamily Central: January 22 at 3:00 p.m.
If you want to meet for a coffee or a tea, give me a shout via your preferred contact method. I will be tweeting as @AtlantaPR. See you at IBS!