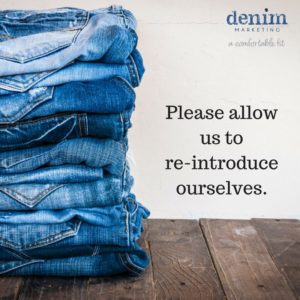 Carol Morgan, founder and owner of Flammer Relations, Inc., is excited to announce that her firm is now servicing accounts under the name Denim Marketing. With their new look, she and her team will focus on the core catalog of services that has earned their winning reputation, including public relations, social media, blogging, strategic marketing, promotions and content development.
Why Denim Marketing? "While our agency-client relationships may feel like a favorite pair of Saturday-morning jeans, this team is designed for performance and functionality," said Morgan.  "We generate original, quality content for a full spectrum of channels. We keep abreast of social media trends, and are willing to roll up our sleeves to get the information into the right hands."
As a public relations and marketing practitioner for more than 20 years, Morgan has observed the growing online and offline competition for consumer attention. She understands that each company needs a compelling, consistent message across all channels, from blogs, website copy and social media to traditional news releases and promotions.
"The new name reflects both our history and our proven commitment to creating fun, engaging and effective solutions for many years to come," said Morgan. "If you're looking for a well-rounded team that is authentic, trusted, reliable and dependable, you'll find it at Denim." Continue reading "Flammer Relations Goes Back to Basics as Denim Marketing"