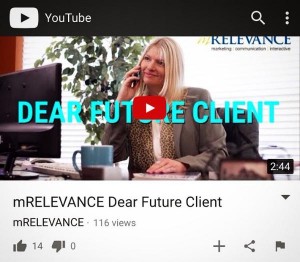 Check Out mRELEVANCE's "Dear Future Client" Video Parody!
We all sing along with the radio, sometimes changing up the lyrics a little. I almost always change the words every  to make them more applicable to my life, or let's face it, I can't always remember the right ones!
For example, instead of Pat Benatar's famous "Love is a Battlefield" lyric, you sing "Love is a pretty bay mare," as you're riding your horse around the arena, or you sing, "biscuits, biscuits" to the tune of Faith Hill's "This Kiss" when making breakfast. It happened to me; I was driving down the road, singing along with Meghan Trainor's "Dear Future Husband," thinking about Marketing RELEVANCE, and prospective clients, of course, and started singing, "Dear Future Client." And it hit me that making a parody of the song would be a great team building activity for our upcoming corporate retreat and would be a great way to show current and prospective clients the fun, creative side of mRELEVANCE.
As a business owner, growing the business is something that's constantly on my mind, so it's no surprise that "Dear Future Client" popped into my head.
Of course, I immediately called Mitch Levinson to share my idea and he jumped in and started writing new lyrics to describe how mRELEVANCE Read More→