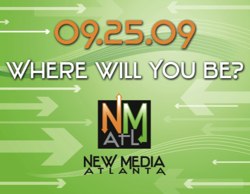 Are you planning to attend New Media Atlanta? I will be there! In fact, I'm excited to be speaking at New Media Atlanta.  I will get my 15 minutes of fame on stage (literally) talking about Reputation Management. More specifically, how important it is to engage in social media not only to build brand but for reputation management.  After all. . . When THEY Google your name, do THEY like what they see?
This conference is geared to business owners — from those who have already embraced social media to those who are trying to figure out how this powerful form of permission-based marketing can help their company.
This conference has an impressive line up of social media experts from Chris Brogan, President of New Marketing Labs, who will discuss his new book, Trust Agents, which he co-wrote with Julien Smith.
Other presenters include some of my absolute favorite social media gurus: Jeff Turner, Nicole Nicolay, Reggie Nicolay, as well as Atlantans Toby Bloomberg and Desiree Scales.
Best of all, if you register now and use THIS link you can get a 10% discount, visit www.newmediaatlanta.com.
New Media Atlanta takes place Friday, Sept. 25, 2009 from 8 a.m. – 5 p.m. at the Georgia Tech Research Institute at 250 14th Street, NW, Atlanta, Ga. 30318. For more information, call 678-694-7001.