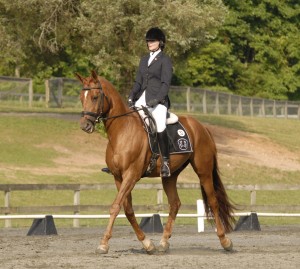 Horse crazy probably wouldn't even begin to describe me.  I ride dressage and I own Trakehners — a barn full of them.
Like every little girl, I asked for a horse every year for Christmas. My parents were smart enough to do the math. . .  they paid for lots of horseback lessons, but never bought a horse.  So, I cantered through my dreams on a black horse and I dreamed of owning a white stallion.
I bought my first horse as a adult and my husband has humored me ever since! Two years ago all of my dreams came true with the purchase of Favian *Ps, a chestnut Trakehner stallion (Aka: The Big Red Horse.  He even has his own blog, The Big Red Horse.)
The stallion isn't white, and prince charming didn't ride up on him, but he does help clean up after him, hold him for the farrier, as well as chauffeur him to horseshows, blanket him when it is cold, bring him in when the storm clouds roll in, grade the arena and more.
My fairy tale is still in process.  I own my once in a lifetime horse, the stallion Favian.  He is the horse that I canter across our pastures in real time.  He is the perfect expression of every little girl's dreams, a strong handsome stallion.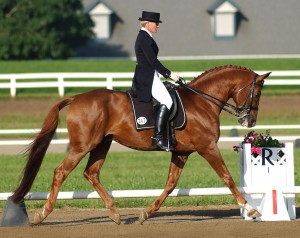 Favian *Ps* is a 16.1h Chestnut Trakehner stallion who has proven himself at the FEI levels of dressage by successfully competing through Intermediare I with Laura Wharton of Lancaster Oaks.  This stallion's excellent temperament has allowed him to transition from a professional rider's horse to an adult amateur's school master.
Our farm Thistledown is home to many friends of the big red horse incluing two other Trakehner horses, 8 cats (all rescues), two dogs, a miniature donkey, four alpine dairy goats and one turtle.
Find more information on my horses and farm at www.TwoRunCreek.com.