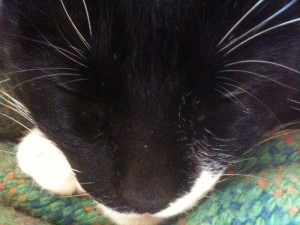 We just returned home from taking a donation to the Etowah Valley Humane Society and visiting with the staff and cats and dogs in their care. They have the cutest litter of kittens there too.  Groups like the Etowah Valley Humane Society work hard year-round to give back. They take in and care for thousands of stray pets while seeking the perfect adoptive families.  If you are looking to add a best friend to your family in 2010, please consider adopting one.  And for those of you who already have furry friends, please spay or neuter them. There are lots of low cost spay and neuter options available.
This is a photo of Tux. He is one of out 10 cats. I was a "kitty foster mama" for a number of years and while fostering hundreds of kittens, I ended up with a few of my own. Luckily we live on a farm, so there is plenty of room.  Here are the stories of my 10 cats and how they ended up at Thistledown.
Josie – If you follow me on Facebook, you will see a lot of photos of Josie. She is our oldest and by far most spoiled cat. I adopted her in 2001 from a pet shop in Marietta for $20. She was born on a construction site and rescued as a stray.  At 6 weeks old she weighed about 6 ounces and was flea infested. Now she is a fat, sassy house cat who lives like a queen.
Daisy & Inky – These sisters were part of a litter of 9 that were dumped on our road along with their mother. The rest of the litter we fostered, vaccinated and adopted  out to friends.  They live happily in the barn and prowl for mice.
Whiskers & Patches – The twins, as my son likes to call them, were dumped on our road on my birthday. My husband arrived just in time to see kittens scampering all over the road. He and another driver scooped them up and home they came. These two love to follow us around the farm when we take the horses in and out of the pastures. Whiskers is especially fond of working in the garden during the summer.
Bo – He is a large grey tabby that I adopted from the Etowah Valley Humane Society. His owner was "allergic" to him. My best guess is that she didn't like the fact that he marks his territory. He is a great mouser and an awesome barn cat. Rather a Tom cat, even though he is fixed, he likes to go on days long hunting expeditions and can often be found hanging out at the neighbors house.
Charlie – An awesome mouser, Charlie just hated going back and forth to PetsMart for adoption. She stressed out over the drive and hated changing foster homes. Eventually we just decided she could stay. Charlie loves the feed room in the barn. She likes to sleep on the horse blankets and is sometimes found siting on the saddles.
Demon – This lovely stripped tabby was part of a huge litter and the boys decided they really liked him. Besides his best friend is and was Charlie – how could we separate them? Demon likes to curl up in a ball with Charlie and sleep.
Shadow – This little bitty kitty fell down in a wall at a local feed store. Bill heard her mewing and opened the wall to rescue her. Unfortunately he was too late for the rest of the litter. We fed her with a syringe for weeks and she is now an extremely overweight house cat who eats everything in sight. She typically can be found in the office and she boasts her own Facebook page.
Tux – Pictured above, Tux was the 10th cat to join the family. He was rescued by a graduate student at Emory University. I fostered him for months driving him to and from PetsMart to be adopted. He was always terrified at PetsMart hissing and clawing at anyone who tried to touch him. He is absolutely the sweetest cat in the world.
If you have room in your life for a pet, please adopt one. Some of my favorite people are pets.
Places to adopt:
And of course, your local PetsMart most likely has several rescue groups on-site on weekends.
For low-cost spay and neuter, contact Santa