My Book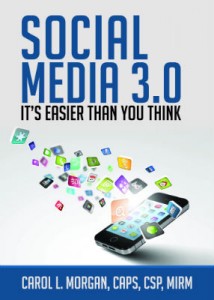 As the presence of social media continues to grow and evolve, so does the need to incorporate social media marketing into your business strategy. By utilizing these sites as vital communication channels, you can engage customers on a whole new level. My new book, Social Media 3.0, helps you do just that and shows how easy it is to rev up your social media, saving valuable time and money while simultaneously reaching a targeted customer base, increasing leads, improving search engine optimization, managing online reputation and escalating sales.
Learn how to hone your business's long term marketing strategy by communicating effectively online. Social Media 3.0 is filled with case studies and tips on utilizing Facebook, Pinterest, Google+, Instagram, LinkedIn, Foursquare, Houzz and other sites to their full potential. Discover more about website effectiveness, building blogs, online press release distribution, podcasting, and organizing fun interactive campaigns that won't break the bank.
In Social Media 3.0, I will take you on a perspective-changing tour of the online marketing front, helping you create an online marketing program that promotes your brand, includes original content, improves search engine optimization and online reputation. Your website and blog will become the center of your social media program making it easy to measure ROI (return on investment).
The book's streamlined business guide includes a clear table of contents, an extensive index and a glossary to further sharpen your learning experience. So, put on your helmet, chaps and riding boots and join me on this roaring journey of social media.
What others are saying:
Social Media 3.0 – Turning Fans into Buyers – interview with Carol Morgan on Builder Radio
Carol Morgan: Social Media 3.0 – interview with Carol Morgan on Intrepid Radio