Archive for Women Consumers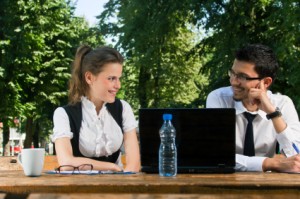 About half-way through the International Builder's Show, I realized that my back already hurt and my feet were starting to hurt too.  I found myself in the Professional Women in Building (PWB) lounge lying on my back on the floor! It was just then that Cindy Cepko entered the lounge and loaned me her EMS (electronic muscle stimulation) machine. Having never used one before I was completely surprised that this portable, light weight piece of equipment not only worked, but also fit into my purse.
A group of us started chatting and we quickly realized that Cindy was quite the prepared tradeshow goddess!  In addition to her EMS machine, she pulled out of her brand new rolling bag extra shoes with Happy Feet insoles. These three items will be on the top of my shopping list for the next show I attend:
EMS machine
Happy Feet
A rolling briefcase
If anyone bought the top two items during #ibs2011, I'd love to have contact information for these vendors. I'm definitely in the market for these! And the sooner, the better!
My personal tradeshow survival kit for the show included:
Folders for each event or meeting – this allowed me to only bring to the show the files I needed that day and leave the rest at the hotel.
A giant case of water – I drank water non-stop during the show. Read More→