We Need a Bigger Awards Cabinet
By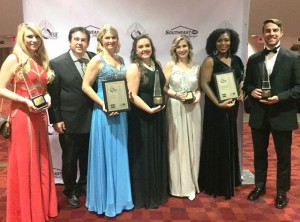 It's awards season and the past few months have been very exciting for mRELEVANCE, as the results of our team's hard work over the past year has been recognized by several prestigious organizations. All of this bling reminds me of just how awesome of a team we really have here at mRELEVANCE, not to mention it looks pretty good in the awards  cabinet!
In September, we received a STARS Award for Best Advertisement – Associate for an ad we designed as part of the His, Hers & Ours campaign for Carolina-based home builder Essex Homes. The winning ad featured vibrant, eye-catching art to advertise the builder's $5,000 design incentive, resulting in a remarkable 76 new home sales in just two months. STARS Awards honor the achievements of builders, associates, Realtors, media, advertising professionals and many others who make major contributions to the residential homebuilding industry. The awards are presented by the North Carolina Home Builders Association during the 21st Century Building Expo and Conference in Charlotte, North Carolina.
Earlier this month, we were honored with two awards at the Public Relations Society of America (PRSA) Georgia Chapter's Phoenix Awards Celebration. The Phoenix Awards recognizes projects and programs that demonstrate excellence in the public relations profession in Georgia. We received an award for the social media campaign for the "Twice as Nice" tax promotion, also for Essex Homes, which helped the builder sell a total of 68 homes in March (the division's highest ever sales month) and lead the Columbia homebuilding market in building permits for the first quarter of 2015. We also received an award for our work on Keystone Custom Homes, "Say 'I Do' to Your New Home" social media campaign, which resulted in a 20 percent increase in the builder's social media traffic and gained national attention in print and online.
And just a few days later, we received NINE OBIEs (five Gold and four Silver, the most ever received in mRELEVANCE history!) at the Greater Atlanta Home Builders Association's 35th annual OBIE Awards. OBIE Awards are the premier awards given in the Atlanta new home construction industry for marketing, sales, building and remodeling. Our OBIE wins included:
Gold OBIEs

Best Brochure – Corporate-Associate: For our creative and memorable Guaranty Mortgage brochure, which features well-written copy and imagery that simplifies the mortgage process.
Best Social Media Application – Associate: For mRELEVANCE's Dress Your Desk contest, which led to a 10 percent increase in Facebook fans and a 40 percent increase in engagement.
Best Website – Corporate-Associate and Best Mobile Website – Associate: The new mRELEVANCE website was honored with two Gold OBIE Awards, as the overall website and its mobile version were awarded for being the best in their respective categories. Since launch, website traffic has tripled and leads have increased by 15 percent.
Best Website – Community: For The Providence Group's Bellmoore Park website, with its one-of-a-kind interactive site plan and successful website sales leads.

Silver OBIEs

Best Audio Spot: For Atlanta Real Estate Forum Radio, the longest-running Atlanta new home/home builder-focused radio show, which is available for download 24/7 on iTunes and continues to be the largest driver of traffic on the Atlanta Real Estate Forum blog.
Best Marketing Campaign/Promotion – Associate (Budget Under $10,000): For the Marketing RELEVANCE corporate website launch, which consisted of mRELEVANCE-branded Matchbox-cars and matching postcards and collateral.
Best Interactive Tool – Builder/Developer: For The Providence Group's Bellmoore Park community interactive sales tool, a unique touch-screen kiosk and iPad station that allows customers to explore  community details, photo and video galleries, 3D renderings, amenity information, site plan and home site availability, floor plan availability and much more.
Best Social Media Application – Builder/Developer: For The Providence Group's Designed to (P)inspire Pinterest contest, which received 149 entries and  raised awareness about the new Design Center, The Providence Group's Pinterest account and the builder's luxury features and finishes.
Wow! I'm so proud of our staff and their dedication and commitment to creative, strategic marketing programs that really stand out and produce meaningful sales results for our clients.
If you're searching for a fun and innovative way to drive leads and increase sales, contact me at mRELEVANCE today at 706-383-3360706-383-3360×20 or visit www.MarketingRELEVANCE.com.
Leave a Comment