Gold Sammy Awards for Marketing
By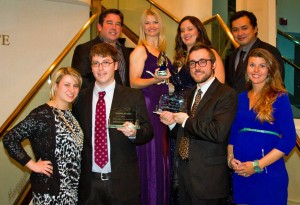 It has been an award-winning month for the mRELEVANCE team! In addition to our six OBIE awards for work in Atlanta, we were also honored by the Home Builders Association of Greater Chicago with two SAMMY awards for marketing at the recent Key Awards banquet.
It is always nice to be honored for client work, as well as our own marketing campaigns. The awards we won in Chicago are:
•    Corporate Specialty Piece – Brochure: The new mRELEVANCE brochure was conceptualized, written and designed by the agency's talented copy writers and graphic designers. Created to inform potential clients of the agency's wide range of product offerings, the brochure features a fun accordion fold with information presented in a professional, conversational format.
•    Website of the Year – Custom Builder: The new Drake Group website was designed to appeal to both of the Chicago-area builder's markets — custom homes and production homes. Features of the site include an elegant, mobile-friendly home page with simple and easy access to information. Visitors will be impressed with site imagery and the way photos are displayed to showcase the builder's quality construction
The Home Builders Association of Greater Chicago's KEY and SAMMY Awards celebrate their 41st anniversary in 2013. The awards began in 1972, and have grown throughout the years to now feature more than 100 building, remodeling, marketing and personal achievement categories. The KEY and SAMMY awards are the premier awards of Chicago's residential building industry. To see more award winners, visit www.chicagorealestateforum.com.
Leave a Comment