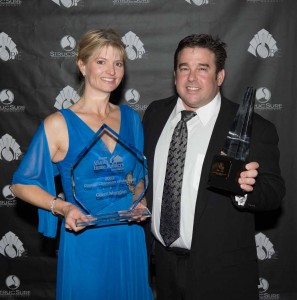 This year at the OBIE awards was an award-winning year for the mRELEVANCE team. We brought home some bling and we are very proud of it! I was quite surprised and honored to be presented with the Council Chair of the Year award from the Greater Atlanta Home Builders Association. Additionally, our team was honored with three OBIE awards for work we did for Rialto Capital. We were honored with a Gold OBIE for Best Associate website for www.GaHomeForeclosures.com, a Gold for a banner ad that ran on AJC Homefinder and a Silver OBIE for our social media campaign. I'd like to give a BIG shout out to Marketing RELEVANCE team members Ben Heisler, Trevor Niemi and Ricky White for their hard work on this account.
It is always nice to be honored for successful client work by our industry peers! And we in turn have honored all of our award-winning industry friends by running all of the winners on Atlanta's favorite real estate news site, www.AtlantaRealEstateForum.com. Just visit www.atlantarealestateforum.com/obies/ to see all the winners.
We look forward to creating even more award-winning campaigns for our clients in 2013.
Leave a Comment