Bullet Work: Suspenseful from Beginning to End
By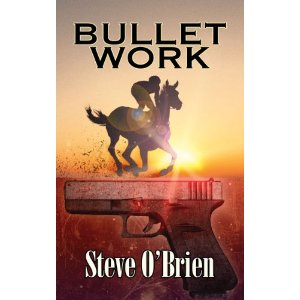 As a blogger it is always nice to be offered something for free.  It is even better if that which you are offered is something that interests you!  This is certainly the case with  Steve O'Brien's new book Bullet Work. I literally could not put it down and read in over the course of two days.  For the little girl who grew up dreaming of owning a horse and now has several of them, anything  related to horses is always a huge plus. Apparently my horse crazy streak has followed me into adulthood. For all of my friends who love Dick Francis and his murder, mystery books about horse racing, you are going to love Bullet Work.
Bullet Work is suspenseful from beginning to end. It shows a  side of horse racing that most of us never experience first-hand, the backside of the track. A cast of colorful characters show determination, greed, the hard work and luck needed to win at the races. An unlikely friendship between a gifted boy and an owner develops along the way and through a strange path of twists and turns the plot thickens.  This look at the backside of the track will keep you guessing who is responsible for the horse murders until the very end.
If you are looking for a fun read, I definitely give this a blue ribbon.
Leave a Comment