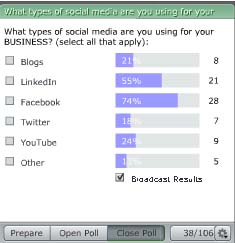 Professional Women in Building held a NAHB webinar today on using social media to reach one of the hottest buying demographics in America – Women.
We did an online poll of the participants. The question posed was, "What types of social media are you using for your business?" The poll results are pictured, but I'll post the results as well:
Blogs – 22%
LinkedIn – 51%
Facebook – 73%
Twitter – 19%
YouTube – 24%
Other – 14%
Ok, so in terms of what I do on a daily basis, this is HUGE!  With only 22% of the companies on the call using a corporate blog, that means that 78% need one! Having the blog work as the engine of your social media program integrates your program. It makes the program less work. Companies can reduce the amount of time needed in social media management by 50% while increasing their website traffic by 25 – 50%. Integrating this piece is key!
This seminar is part of a 5 part NAHB webinar series called Building Conversations, so make sure to check it out!
Leave a Comment