Topsy Turvy Mother's Day
By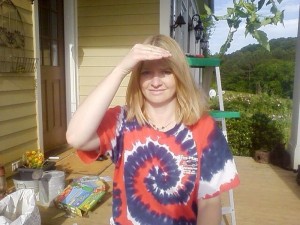 I've always wanted to try a Topsy Turvy for growing tomatoes and thanks to my "boys" now I have the chance!.
As you can see from these photos, it has been a Topsy Turvy Mother's Day at the farm! Reminiscent of the world of Dr. Seuss, when I took the photo of the Topsy Turvy I accidentally moved the camera and got a really crazy shot. I assure you that our house is not bent!
Now I'm growing tomatoes upside down! It will be interesting to see if each plant really produces 50 pounds of tomatoes like the ads claim. Tomatoes are supposed to grow 20-percent faster and no staking is required. The downside is that I have to try to remember to water them every day.
Leave a Comment