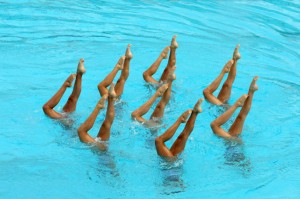 So you have a blog. . . now what? Now it is time to synchronize your social media and develop a more in-depth plan. Here are a few quick ways to evaluate your current program.
Does your blog have a plan to survive the next "dry" spell?
Blog is strategically focused on a topic or specialty
Team of writers in place and ready to blog
Editorial plan of 8 blog posts a month
Backup content is available for when something falls through
Posts contain a mixture of copy, photos, video and podcasts
Posts are easy to read about 300 words long and often contain bullets
Is your team "synchronized" in their approach?
Both marketing and sales people are engaged in content production
Blog leverages other social networks to maximize referral traffic
Staff is trained on how to promote the blog and social media sites
Online social media policy spells out rules of engagement
Does your blog cause visitors to "take flight" or sign up?
Email marketing drives traffic to blog
Email can be shared through social sharing
Contests are hosted on the blog to attract visitors and gather names
A series of custom landing pages welcome visitors from social media sites
Strong call to action encourages visitors to sign up for email list
Never fear, if your blog doesn't meet all of these goals, I can help. I've been blogging since 2006 and have lots of ideas for your program.  Blogging is fun.
For other related content, read these posts on the mRELEVANCE site
How to Tell if Your Social Media Consultant "Gets" It
Your Business Location and the Web
Leave a Comment