Social Media Marketing for Business
Atlanta now tops the lists of places to be in social media marketing. Does your small business Tweet? Do you have a Facebook page? If the answer is no, maybe it is time to look into a social media program.  Just last week Atlanta was listed as one of the top Twitter cities of the world. Listed at #5, Atlanta is in good company coming in just behind London, Los Angeles, Chicago and New York.
During 2009, Atlanta was one of the fastest growing cities in terms of Facebook users with more than 142% growth during the first half of the year. In numbers of Facebook users Atlanta is second only to New York! With all of these potential consumers flocking to Facebook and Twitter, it is more important than even to make sure your small business has a presence on the sites.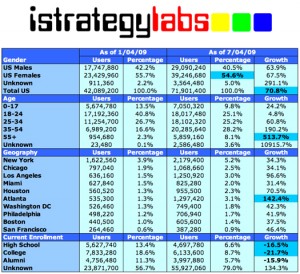 To streamline your social media strategy, make sure to launch a blog as the heart of your program. A blog will help you develop your messages and save time spent on social media by reducing the number of places you need to update. While there aren't stats on blogging readily available for Atlanta only, national and worldwide stats show how popular blogging has become:
57 million Americans read blogs
12 million American adults maintain a blog
Technorati tracks 70 million blogs
Over 120 thousand blogs created every day
1.4 million new blog posts daily
22 out of top 100 most popular Web sites in the world are blogs
89% of companies surveyed think blogs will be even more important in the next 5 years
If you are an Atlanta small business and you need social media consulting or help building an effective program, contact me at 770-383-3360.
Leave a Comment