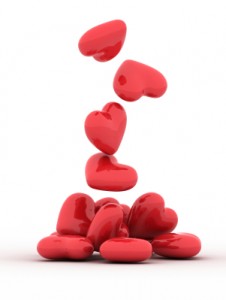 It's Valentine's Day! Will you be mine? Remember the days of passing Valentine's to everyone in the class? Or how about making chains of cupids or homemade Valentine cards?  Now we "passs" Valentine's online via Facebook and the other social networking sites. I love all the pretty flowers, hearts and puppies I have received the last few days.
Social networking has made it much easier to stay in touch with the ones we love – friends, family and even those online friends that we have never even met IRL (in real life).  Will you get a video valentine this year, or will your best gift still be a box of chocolates?
Valentine's Day started in the middle ages and is regarded as a celebration of love and affection between lovers. It is celebrated by many countries and is the second largest card-sending holiday of the year behind Christmas.  Of course, now it may become a high Internet traffic day with all the online greetings.
Let me know how you are celebrating Valentine's Day. I look forward to seeing you on the social networking sites!
Leave a Comment