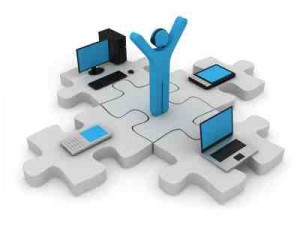 Open source software and code has changed the way programmers develop enabling them to build programs and launch sites off already existing and usually free code. As the Internet has grown, sites built from consensus have increased in number.  Wikipedia is a dictionary built on consensus, Google Wave documents can be created by a team of people located anywhere and with Google Sidewiki you can comment and converse "on" any Website.
With this online evolution, it is really no surprise that the practice of social media marketing and its best practices has become the Ultimate Open Source. At conferences like SoCon (which I attended yesterday), Tweet ups and even Twitter chats, those who participate in social media come together to share and learn from one another. Promoting the discipline of social media and creating a set of best practices, while sharing knowledge and educating one another is the ultimate goal. Whether you striving to learn more about social media to network with friends, promote your boutique business or help your agency's clients achieve online success with engagement and optimization, conferences and other gatherings of social media experts, gurus, divas, mavens and consultants have become the norm for shared learning.
These conferences are much more interactive than the marketing conferences of the past. Speakers certainly share case studies and successes, but in more of an open source, open dialogue. The audience participates during the conference by asking questions as they come to mind, creating an ongoing conversation and helping to shape the course and outcome of the actual presentation. Most presenters learn during the presentation as well, or are challenged to think about the solution differently.
Another huge difference is the level of engagement of the audience. Social media, which is often deemed interruptive by professors and lecturers, becomes interactive at conferences. Tweeting during conferences has certainly become a norm. For those who learn by active participation, tweeting provides a way to digest the information faster and to use it as a jumping off point for the next great idea. Often the best take aways and ideas that I get  from conferences aren't presented from the main stage, but they are sparked by the conversations taking place on Twitter or launched off a speaker's statement that was just tweeted.
Whether you are looking to network, learn about specific tools or find your next great idea, social media conferences and events may just provide the answer. I say "may" because you have to come with the right attitude – an attitude of learning and sharing.  Engage – Share – Learn.
I enjoyed engaging, sharing and learning alongside many of my friends at SoCon. The spirit of shared learning is contagious, let's all embrace it.  Please add your comments, I'd love to know your thoughts and connect with you online.
Leave a Comment