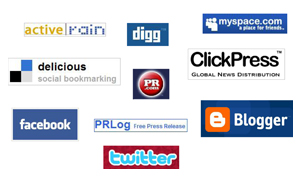 August is going to be a busy month with lots of opportunities to engage audiences and speak about my favorite subjects – social media marketing and social networking. I hope that we can connect at one of the many fun events that I will be participating in.  Here's the line-up!
Jacksonville Private Blogging Seminar – August 10 – 11
I'll be training my favorite Jacksonville Real Estate firm how to blog effectively – on their own blog, as well as ActiveRain and Trulia.  Consulting clients and helping them to be successful with social media is one of my favorite things to do.  Please let me know if you'd like to schedule a social media consultation!
EOC Conference – August 13 – 15
The NAHB's Executive Officers Council conference is in Louisville and Mitch and I look forward to presenting Social Media: Engage in the Conversation and Social Media Lab: Building a Social Media Program from the Ground Up. Executive Officers will leave our seminars with a better understanding of how to build a social media program, and those who attend the lab will learn to blog, tweet and Facebook.
BHI RoadShow – August 18: 11 a.m. – 2 p.m.
This lunch and learn at the Atlanta HBA is designed to help you sell more homes.  I will be presenting with Blair Kuhnen with BHI, Erik Cofield with BuildTopia and Shannen Manso will be our moderator/emcee. I'm putting together a brand new, action-packed presentation of successful social media case studies.  It will be a Don't miss! Register at www.atlantahomebuilders.com
PRSA ICF – August 20
Targeting the Right Social Media Channels – I'm on a panel with my peers, friends and fellow social media PR geeks! What fun! Toby Bloomberg @tobydiva, Melissa Libby @melissaL, Moderator: Jenny Schmitt @cloudspark and myself @AtlantaPR will share successful social media strategies. Register at www.prsageorgia.org
PRCamp – August 21: 8 a.m. – noon
PR Camp Atlanta will be a full morning of highly interactive discussions on social media — complete with marshmallows and a virtual campfire.  I'm a Girl Scout at heart, and as a former troop leader, I look forward to serving as a moderator of one of the sessions.  PR Camp will explore key issues facing our industry, helping PR and marketing professionals to identify challenges and take advantage of  new opportunities. Register at http://prcampatlanta.eventbrite.com/
Leave a Comment