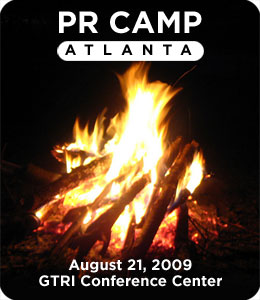 I am looking forward to PR Camp Atlanta in the a.m. I'll be moderating a session on what senior PR practitioners can learn from Gen Y practitioners. It will be fun to get ideas from multiple generations on how we can all work together for the good of clients.
With 200 people on the list to attend, Atlanta's first PR Camp is not only SOLD out, but is set to be a great "unconference."   Pack your tent, bring some smores and come camp with us as we explore and embrace the online world.  From getting your boss interested in social media to how to measure the success of social media marketing – we will cover the bases.
No bug spray needed, but bring your best campfire songs and social media ideas!
Leave a Comment