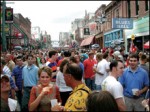 I'm going to Graceland, Graceland, Memphis, Tennessee. . . Ever since the Memphis Area Home Builder's Association called to book our social media seminar, I have been singing that song.
I'll be in Memphis April 8 presenting Social Media for Builders.  At some point during the trip, I will visit Graceland.  I plan to have a treat at the Shake, Split and Dip, an old fashioned ice cream parlor and bask in the nostalgia of 45 records and quieter times.
While in Memphis, I will introduce builders to ways to achieve Rock star through social media marketing from blogs to Facebook, Flickr, ActiveRain, Trulia, YouTube and much, much more.
Can you imagine the social media sites that Elvis would have had? His fans on Facebook alone are staggering to think about!
Leave a Comment